Navy League Pittsburgh Council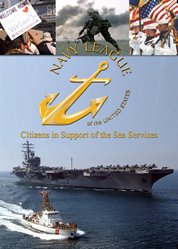 Announcements

The Pittsburgh Council looks forward to 2016, a year of exciting new  events.  If you would like to support our Nation's and local Sea Services and have fun doing so, just get in contact with our President listed on the "Board of Directors"  tab above.
+++++++++++++++++++++++++++++++++++++++++++++++++++++++++++++++++

3rd Quarter 2016 Newsletter posted

Friends of the Sea Services
The Army-Navy Alumni Parents are again sponsoring a tailgate party for the Army-Navy Game on 10 December.  Early reservations strongly recommended.  Details below.
Details:
Date/Time: 10 December, 3:00 PM
Place: All Stars Sports Bar and Grill, Robinson Township Center
Cost: $15 for buffet served from 3:00 PM thru 1/2 time
POC/Reservations: Bill Barca, billbarca@gmail.com
USS Pittsburgh Calendar available.  See USS Pittsburgh Tab

The Navy League of the United States was founded in 1902 with the encouragement of President Theodore Roosevelt. It is unique among military-oriented associations in that it is a civilian organization dedicated to the education of our citizens, including our elected officials, and the support of the men and women of the sea services and their families.

The objective and purpose of the Navy League is twofold: educational and motivational. We must acquire and display before the citizens of our country information regarding the condition of our naval and maritime forces. We must awaken interest and support in all matters which aid our maritime capabilities.
To this end, the Navy League works closely with the Navy, Marine Corps, Coast Guard, and US-flag Merchant Marine through a network of 265 councils in the U.S. and around the world. The Navy League has more than 65,000 active members.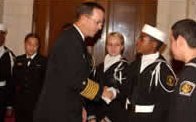 The Navy League supports America's young people through its youth programs, including sponsorship of the US Naval Sea Cadet Corps and the Navy League Scholarship Program. Individual councils are also involved in promoting youth-oriented activities in their communities such as NJROTC, MCJROTC, and ROTC units along with other recognized youth programs. Local councils and national headquarters provide over $200,000 in scholarships and awards every year.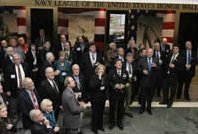 Navy League councils support active duty military personnel through "adoption" of ships, installations, and units; commissioning ceremonies; award programs; and other recognition programs.

Over the years, the Navy League has compiled an impressive record of accomplishments. Today the Navy League is widely respected by citizens, community and industrial leaders, and public officials. Navy League programs are welcomed in communities throughout the nation, and members are recognized for their integrity and patriotism.
"It seems to me that all good Americans interested in the growth of their country and sensitive to its honor, should give hearty support to the policies which the Navy League is founded to further. For the building and maintaining in proper shape of the American Navy, we must rely on nothing but the broad and farsighted patriotism of our people as a whole." Teddy Roosevelt
Pittsburgh Council, Patriotism & Gratitude, Honor, Knowledge, Service, Awareness, & Engagement