Navy League Pittsburgh Council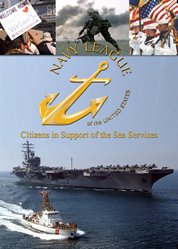 Announcements

---
Navy League Scholarships Available

USS Pittsburgh Scholarship Fund

Sponsored by:  Navy League, Pittsburgh
CouncilPOC/Applications: Pittsburgh Foundation, 

https://www.pittsburghfoundation.org/scholarship/1363

Requirements: Dependent of or Current or former crew member USS Pittsburgh
Navy League of the United States
Sponsored by: Navy League Foundation
POC/Applications: 
http://navyleague.org/scholarship/index.html
Requirements: C
hildren and grandchildren of former members of the Sea Services and those currently serving as well as members of the Naval Sea Cadet Corps

.
---
Holiday gifts available from the USS Pittsburgh Family Readiness Group (FRG).  See the "USS Pittsburgh" Tab

A message from the Pittsburgh Council President
Happy Birthday United State Navy


The world has turned over 88,330 times since Congress realized the need for a Naval service. From a small band of patched together frigates to the mightiest force the world has ever seen, the United States Navy has one continuous thread: Brave men and women who were willing to face any challenge and challenge any foe. This is the United States Navy. Happy Birthday to all who have served a

nd

 still serving today.


Bob MacPherson President
USNL Pittsburgh

---
Looking forward to Exciting and Rewarding Events in 2018

The Pittsburgh Council looks forward to 2018, a year of exciting new  events.  If you would like to support our Nation's and local Sea Services and have fun doing so, just get in contact with our President listed on the "Board of Directors"  tab above.
Next Event:  Annual Council Awards Diner Meeting
Details and date to be determined at a later date
---
3rd Quarter 2017 Port of Pittsburgh Newsletter posted, the official publication of the Navy League of the United States, Pittsburgh Council.  Check out stories about the Coast Guard Auxiliary, local Sea Cadet Eagle Scout, USS Pittsburgh Relief Crew update and more.

---
Council Facebook:   https://www.facebook.com/NavyLeague-PittsburghCouncil-1161671123898487/


---
Other local Navy and Military Events


  Wreaths Across America

Local Effort Underway to Support Wreaths Across AmericaTM
Volunteers to host fundraising events to ensure that all veterans at The National Cemetery of the Alleghenies are honored
Pittsburgh Pennsylvania — Local volunteers are working hard to ensure that all veterans laid to rest at the National Cemetery of the Alleghenies are honored this December on National Wreaths Across America Day. This year, the ceremony, held simultaneously across the country at more than 1,200 locations, will be on Saturday, Dec. 16, 2017. The goal: to place a live, balsam fir wreath at the headstone of every veteran buried there and spread patriotism and commemoration for the ultimate sacrifices they made for our country.
From now until November 27, volunteers will host various fundraisers to sponsor the 9600 wreaths needed to honor every veteran at the National Cemetery of the Alleghenies. Each wreath sponsorship costs $15, with $5 going to the local fundraising group for the Pittsburgh Council of the United States Navy League as part of a special fundraising program developed by Wreaths Across America.
Information is available on our website or by Contacting President Bob MacPherson at 724-633-0295 or bobmac711@live.com
"Every donation and wreath sponsorship is a meaningful gift from an appreciative supporter who knows what it means to serve and sacrifice for the freedoms we all enjoy," said Karen Worcester, executive director of Wreaths Across America. "We are so grateful to the community of Pittsburgh and the surrounding communities for participating in our mission to Remember, Honor and Teach."
To participate and donate click on the link below.  The "Donate" button will go directly to our Pittsburgh Council online fundraising page:
https://wreaths.fastport.com/donateLocation.html?page=47147&relate=17115

National Wreaths Across America Day is a free event, open to all. For more information please visit www.WreathsAcrossAmerica.org.

About Wreaths Across America
Wreaths Across America is a 501(c)(3) nonprofit organization founded to continue and expand the annual wreath-laying ceremony at Arlington National Cemetery begun by Maine businessman Morrill Worcester in 1992. The organization's mission – Remember, Honor, Teach – is carried out in part each year by coordinating wreath-laying ceremonies in December at Arlington, as well as at more than 1,200 veterans' cemeteries and other locations in all 50 states and beyond. 
---
Military Family Scholarships Available
Military Members/Spouses/Children
Search for scholarships for military members/spouses/children including scholarships offered by the Commissaries: http://www.militaryscholar.org/

Good luck with your searches and applications.

---
---
Who we are:

The Navy League of the United States was founded in 1902 with the encouragement of President Theodore Roosevelt. The Navy League is unique among military-oriented associations in that it is a civilian organization dedicated to the education of our citizens, including our elected officials, and the support of the men and women of the sea services and their families.

The objective and purpose of the Navy League is twofold: educational and motivational. We must acquire and display before the citizens of our country information regarding the condition of our naval and maritime forces. We must awaken interest and support in all matters which aid our maritime capabilities.
To this end, the Navy League works closely with the Navy, Marine Corps, Coast Guard, and US-flag Merchant Marine through a network of 265 councils in the U.S. and around the world. The Navy League has more than 65,000 active members.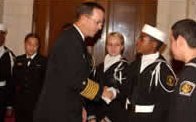 The Navy League supports America's young people through its youth programs, including sponsorship of the US Naval Sea Cadet Corps and the Navy League Scholarship Program. Individual councils are also involved in promoting youth-oriented activities in their communities such as NJROTC, MCJROTC, and ROTC units along with other recognized youth programs. Local councils and national headquarters provide over $200,000 in scholarships and awards every year.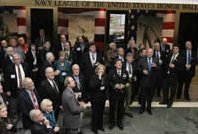 Navy League councils support active duty military personnel through "adoption" of ships, installations, and units; commissioning ceremonies; award programs; and other recognition programs.

Over the years, the Navy League has compiled an impressive record of accomplishments. Today the Navy League is widely respected by citizens, community and industrial leaders, and public officials. Navy League programs are welcomed in communities throughout the nation, and members are recognized for their integrity and patriotism.
To Join Navy League of the United States and the Pittsburgh Council, please go to the National Navy League site at: 
http://www.navyleague.org 

Pittsburgh Council, Patriotism & Gratitude, Honor, Knowledge, Service, Awareness, & Engagement