Navy League Pittsburgh Council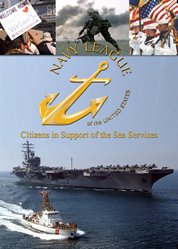 Announcements

---
Looking forward to Exciting and Rewarding Events in 2019

The Pittsburgh Council looks forward to 2019, a year of exciting new  events.  If you would like to support our Nation's and local Sea Services and have fun doing so, just get in contact with our President listed on the "Board of Directors"  tab above.

---
---
Upcoming Events

Annual Dinner Meeting

Our next major activity is the Annual Dinner Meeting with military awards.  Plans are in progress.  Date, time and agenda to be announced

---
---
3rd Quarter 2018 Port of Pittsburgh Newsletter posted

3rd Quarter 2018 Port of Pittsburgh Newsletter, the official publication of the Navy League of the United States, Pittsburgh Council, posted.  See Ports of Pittsburgh tab above.  Check out stories about the Navy Ball, VA Picnic, 2018 Wreaths Across America and more.

---
---
Pittsburgh Resources List
Updated Resource list (August 10, 2018) posted in Council News and Features section

---
USS Pittsburgh Change of Command

Council members attended the Change of Command of the USS Pittsburgh on January 12, 2018.   CDR Neil Colston, the outgoing commanding officer, thanked the Council for its support, including visits to the city by the crew, hosting a Christmas party for the crew's children and providing a scholarship program. The Council welcomed CDR Jason Deichler, a son of Pittsburgh, as the new commanding officer; and, of course, celebrated with a Pittsburgh traditional cookie table.
See the January 16, 2018 Pittsburgh Post Gazette article:
http://www.post-gazette.com/local/region/2018/01/16/USS-Pittsburgh-Commander-Jason-Deichler-submarine-Carnegie-Chartiers-Valley-HS/stories/201801160163
See the February 2, 2018 Pittsburgh Post Gazette article:
http://www.post-gazette.com/sports/other-sports/2018/01/31/USS-Pittsburgh-submarine-Jason-Deichler-Carnegie-Chartiers-Valley-Gus-Marquis/stories/201802020003

See the USS Pittsburgh Tab for further information

---
Council Facebook:   https://www.facebook.com/NavyLeague-PittsburghCouncil-1161671123898487/


---
Other local Navy and Military Events

Scholarships Available
.  Here are 3 links to scholarship opportunities for military/veterans/dependents. Additional spouses maybe also eligible for tuition assistance for training, certifications, etc.
Navy League Foundation(https://www.navyleague.org/programs/scholarships):  The Navy League Foundation awards scholarships to high school seniors who will attend college in the fall. Navy League Foundation scholarships are available to children and grandchildren of veterans or active duty sea service men and women, as well as members of the U.S. Naval Sea Cadet Corps. Scholarships for the 2019-2020 school year are due by Feb. 15, 2019.

Defense Commissary Agency: (https://www.militaryscholar.org/sfmc/index.html) offers $2000 scholarships to unmarried dependent children  (under age of 23) of military---active, reserve or retired.  Deadline Feb. 15, 2019. 
Information on other scholarships for military dependents can be found at: https://www.militaryscholar.org/

Additionally spouses of military members are eligible for The My Career Advancement Account Scholarship which is a workforce development program that provides up to $4,000 of tuition assistance. The scholarship assists military spouses in pursuing licenses, certificates, certifications or associate degrees necessary to gain employment in high-demand, high-growth portable career fields and occupations. Spouses may use their My Career Advancement Account Scholarship funds at any academic institution approved for participation in the scholarship. For further info call Military One Source, 800-342-9647,  https://mycaa.militaryonesource.mil/ 
---
Who we are:

The Navy League of the United States was founded in 1902 with the encouragement of President Theodore Roosevelt. The Navy League is unique among military-oriented associations in that it is a civilian organization dedicated to the education of our citizens, including our elected officials, and the support of the men and women of the sea services and their families.

The objective and purpose of the Navy League is twofold: educational and motivational. We must acquire and display before the citizens of our country information regarding the condition of our naval and maritime forces. We must awaken interest and support in all matters which aid our maritime capabilities.
To this end, the Navy League works closely with the Navy, Marine Corps, Coast Guard, and US-flag Merchant Marine through a network of 265 councils in the U.S. and around the world. The Navy League has more than 65,000 active members.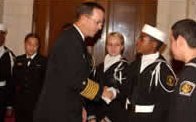 The Navy League supports America's young people through its youth programs, including sponsorship of the US Naval Sea Cadet Corps and the Navy League Scholarship Program. Individual councils are also involved in promoting youth-oriented activities in their communities such as NJROTC, MCJROTC, and ROTC units along with other recognized youth programs. Local councils and national headquarters provide over $200,000 in scholarships and awards every year.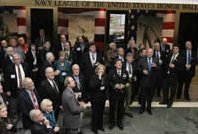 Navy League councils support active duty military personnel through "adoption" of ships, installations, and units; commissioning ceremonies; award programs; and other recognition programs.

Over the years, the Navy League has compiled an impressive record of accomplishments. Today the Navy League is widely respected by citizens, community and industrial leaders, and public officials. Navy League programs are welcomed in communities throughout the nation, and members are recognized for their integrity and patriotism.
To Join Navy League of the United States and the Pittsburgh Council, please go to the National Navy League site at: 
http://www.navyleague.org 

Pittsburgh Council, Patriotism & Gratitude, Honor, Knowledge, Service, Awareness, & Engagement