Beautiful Pittsburgh Skyline

Navy League Pittsburgh Council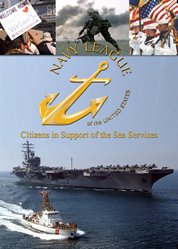 ---
Wreaths Across America
Navy League Members/Friends of the Sea Services,
Wreaths Across America is a non-profit organization that has worked for years to place wreaths at graves for service members/veterans in National Cemeteries 
The Cemeteries of the Alleghenies  participates in Wreaths Across America.   For every donation made utilizing the code, PA0294P, Navy League Pittsburgh Council receives $5. This is a way to support the work that Pittsburgh Council of the Navy League does including support our Sea Cadets and our local Sea Service members.
DEADLINE FOR ORDERING WREATHS IS NOVEMBER  30.
Instructions for ordering wreaths:
• Order online through the direct link to the Navy League, Pittsburgh Council page https://www.wreathsacrossamerica.org/PA0294
o Click Sponsor Wreaths.
o Select the # of wreaths to sponsor AND the location you want them to go to.
o Add other options (grave specifics, etc) as desired.
o Complete checkout process with credit/debit card or Paypal. Be sure to verify that your group ID and location ID are indicated on your order prior to submitting.
• Mail checks direct to Wreaths Across America
o Include one sponsorship form with each check, https://wreathsblob.blob.core.windows.net/media/5uvhphiv/wreath-sponsorship-form-updated.docx
o Include one tally sheet per batch of checks in an envelope, https://wreathsblob.blob.core.windows.net/media/s4bd3vdl/sponsorship-tally-sheet-2020.docx
o Be sure to include your Group ID, PA 0294 and Location ID, Cemeteries of the Alleghenies, PANCAB on each sponsorship form.
o Mail to: Wreaths Across America, PO 249, Columbia, ME 04623
To volunteer to help lay wreaths, https://www.wreathsacrossamerica.org/pages/47147 All sponsored wreaths in 2020 will be placed on December 16th - December 18th from 3PM to Dusk and on December 19th from 8AM to Dusk. If you have special requests, please contact the volunteer Location Coordinator, Michael Hicks at michaelhickswaa@aol.com to make those arrangements. Also, the ceremony will be held virtually this year it will be posted on Facebook on December 19th at noon here: https://www.facebook.com/Wreaths-Across-America-National-Cemetery-of-The-Alleghenies-623750991370718. Please note, masks and gloves are required to place wreaths.
 
Thank you for your support


---
Veterans Day Fireside Chat with our own Captain Polly Bozdech-Veater (USN ret.)

Our own Captain Polly Bozdech-Veater (USN ret.) was privileged to have a fireside chat with the City of Pittsburgh Talent Acquisition Senior Director on Veterans Day.  Polly discussed her Navy career, the local Navy League in Pittsburgh, and her passion for supporting local veterans and active duty personnel.
Here's a link to the event:

https://www.facebook.com/PGHCityCareers/posts/1599550540253753?notif_id=1605110983199071¬if_t=story_reshare&ref=notif


---
---
Pittsburgh Council Virtual Navy Birthday Celebration
On October 13th we celebrated the 245th birthday of the US Navy.
The link below is a "Virtual Navy Birthday Celebration" on Zoom which featured Captain Dave Kurtz, CO of the USS Somerset (LHD-25), Pittsburgh Navy League past President Bob MacPherson, Commanders Brashear ( CO of Naval Operational Support Command, Pittsburgh) and Smith (CO of Naval Talent Acquisition Group, Pittsburgh) wishing our Navy a Happy 245th. The program is less than twenty minutes.
https://drive.google.com/file/d/1dj5UwdjS3c3SyFLMim7499D_SvS9UMcb/view?usp=sharing
---
RDML James Aiken conducts webinar with the Pittsburgh Council
Our Council was honored  to have RDML Aiken present to us in July, 2020.  RDML Aiken is Commander, Carrier Strike Group Three.  Click on "Council News and Features, Full Stories"" to view the webinar.
---
October 9 Navy Birthday Ball Cancelled
Due to the current COVID 19 guidance both for service members as well as the state guidance, we are cancelling the formal Navy Birthday Ball for 2020. 
---
USS Pittsburgh Memorabilia
We have in our inventory a small number of USS Pittsburgh memorabilia items.  These make great items to remember and to celebrate this fast attack submarine Pittsburgh namesake.  The following listing displays the item – the quantity – the price. (shipping charges are included)
Item                                                    Quantity                         Price
 Metal Travel Mugs                                 6                                $30
Acrylic Christmas Ornament                30                             $20  
Ballcaps w/logo                                        7                               $25   
Lapel pins w/logo                                   40                              $5
To purchase any item, please contact John Caspero at: primary: e-mail -  jfcaspero@verizon.net; secondary: home phone  (412) 257-6141 

---
Announcements

---
The USS Pittsburgh Inactivation Ceremony - January 17, 2020
On January 17, 2020 the USS Pittsburgh inactivation ceremony was held in Keyport, Washington.  Here's a link to CO CDR Jason Deichler's Inactivation Speech and a link to the Inactivation Program.
USS Pittsburgh arrives at Bremerton Naval Base for inactivation and eventual decommissioning

---
Pennsylvania  Senator Pat Toomey praises the USS Pittsburgh and crew
Pa Senator Toomey pays tribute, in the Senate Congressional Record, to the USS Pittsburgh and 35 year service by crew members. 
https://www.toomey.senate.gov/files/documents/2020.1.7%20USS%20PGH_CR.pdf

---
2020 USS Pittsburgh Scholarship Awarded
The Navy League Pittsburgh Council awards college scholarships to current and former crew members of the USS Pittsburgh and to their family members. 
In 2020 we awarded a total of $5900 from Council and the Pittsburgh Foundation funds to four deserving applicants.  We wish them much success in their college endeavors.

---
---
Looking forward to Exciting and Rewarding Events in 2021

The Pittsburgh Council looks forward to 2021, a year for exciting new events.  If you would like to support our Nation's and local Sea Services and have fun doing so, just get in contact with our President listed on the "Board of Directors"  tab above.  We had many events planned for 2020 but COVID-19 has led to some events being postponed or cancelled.  We are continuing our planning into 2021 and we hope COVID is soon to be in our rear view mirror.

---
---
Upcoming Events
Due to COVID our annual VA picnic planned for September has been cancelled.  The Navy Ball scheduled for October 9 has been cancelled.


---
---
3rd Quarter 2020 Port of Pittsburgh Newsletter posted

The 3rd Quarter 2020 Port of Pittsburgh Newsletter, the official publication of the Navy League of the United States, Pittsburgh Council, is posted.  See Ports of Pittsburgh tab above.  This edition includes announcements from our Council President, local sailor, marine and Coast Guardsman of the year; RADM Aiken interactive webinar and more.

---
---
Pittsburgh Resources List
The newly updated Resource List (March 17, 2020) is posted in the Council News and Features section.  This is a comprehensive listing of local resources specifically available for veterans and active duty military personnel.

---
---
Council Facebook:   https://www.facebook.com/NavyLeague-PittsburghCouncil-1161671123898487/


---
Other local Navy and Military Events
---
---
National Navy League Scholarship
2020 Scholarship Applications Now Online
The 2020 Navy League scholarship applications will be available online soon and are due by March 1.  Thanks to the generosity of donors and members from around the world, the Navy League Foundation can provide financial assistance to the dependents and direct descendants of sea service personnel for college and university expenses. Please visit National Navy League scholarship website to learn more about the application process. Contact Veda Frye at scholarships@navyleague.org if you need more information or wish to donate and support this effort.
---
---
Who we are:

The Navy League of the United States was founded in 1902 with the encouragement of President Theodore Roosevelt. The Navy League is unique among military-oriented associations in that it is a civilian organization dedicated to the education of our citizens, including our elected officials, and the support of the men and women of the sea services and their families.

The objective and purpose of the Navy League is twofold: educational and motivational. We must acquire and display before the citizens of our country information regarding the condition of our naval and maritime forces. We must awaken interest and support in all matters which aid our maritime capabilities.
To this end, the Navy League works closely with the Navy, Marine Corps, Coast Guard, and US-flag Merchant Marine through a network of 265 councils in the U.S. and around the world. The Navy League has more than 65,000 active members.
The Navy League supports America's young people through its youth programs, including sponsorship of the US Naval Sea Cadet Corps and the Navy League Scholarship Program. Individual councils are also involved in promoting youth-oriented activities in their communities such as NJROTC, MCJROTC, and ROTC units along with other recognized youth programs. Local councils and national headquarters provide over $200,000 in scholarships and awards every year.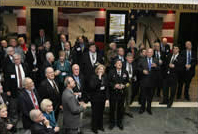 Navy League councils support active duty military personnel through "adoption" of ships, installations, and units; commissioning ceremonies; award programs; and other recognition programs.

Over the years, the Navy League has compiled an impressive record of accomplishments. Today the Navy League is widely respected by citizens, community and industrial leaders, and public officials. Navy League programs are welcomed in communities throughout the nation, and members are recognized for their integrity and patriotism.
To Join Navy League of the United States and the Pittsburgh Council, please go to the National Navy League site at: 
http://www.navyleague.org 

Pittsburgh Council, Patriotism & Gratitude, Honor, Knowledge, Service, Awareness, & Engagement