Navy League Pittsburgh Council

                               Announcements

---
The Pittsburgh Council looks forward to 2017, a year of exciting new  events.  If you would like to support our Nation's and local Sea Services and have fun doing so, just get in contact with our President listed on the "Board of Directors"  tab above.
Next Event:  May 6 Kentucky Derry Party to raise funds for the USS Pittsburgh crew and family scholarships.  Details regarding the event to follow.

2017 USS Pittsburgh Relief Crew Membership renewal due - See USS Pittsburgh Tab

---
Scholarship application for current and former USS Pittsburgh crew and dependents extended to April 30.  See "USS Pittsburgh" tab for submittal details.

---
4th Quarter 2016 Port of Pittsburgh Newsletter posted, the official publication of the Navy League of the United States, Pittsburgh Council.  --  Read about recent great events in which Council members managed, participated in or had a major role such as the Navy Ball and the visit from USS Pennsylvania crew members.

++++++++++++++++++++++++++++++++++++++++++++++++++++++++++++++++++++++

Who we are:

The Navy League of the United States was founded in 1902 with the encouragement of President Theodore Roosevelt. The Navy League is unique among military-oriented associations in that it is a civilian organization dedicated to the education of our citizens, including our elected officials, and the support of the men and women of the sea services and their families.

The objective and purpose of the Navy League is twofold: educational and motivational. We must acquire and display before the citizens of our country information regarding the condition of our naval and maritime forces. We must awaken interest and support in all matters which aid our maritime capabilities.
To this end, the Navy League works closely with the Navy, Marine Corps, Coast Guard, and US-flag Merchant Marine through a network of 265 councils in the U.S. and around the world. The Navy League has more than 65,000 active members.
The Navy League supports America's young people through its youth programs, including sponsorship of the US Naval Sea Cadet Corps and the Navy League Scholarship Program. Individual councils are also involved in promoting youth-oriented activities in their communities such as NJROTC, MCJROTC, and ROTC units along with other recognized youth programs. Local councils and national headquarters provide over $200,000 in scholarships and awards every year.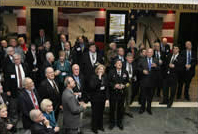 Navy League councils support active duty military personnel through "adoption" of ships, installations, and units; commissioning ceremonies; award programs; and other recognition programs.

Over the years, the Navy League has compiled an impressive record of accomplishments. Today the Navy League is widely respected by citizens, community and industrial leaders, and public officials. Navy League programs are welcomed in communities throughout the nation, and members are recognized for their integrity and patriotism.
To Join Navy League of the United States and the Pittsburgh Council, please go to the National Navy League site at: 
http://www.navyleague.org 

Pittsburgh Council, Patriotism & Gratitude, Honor, Knowledge, Service, Awareness, & Engagement