Council News and Features
-------------------------------------------
Annual Awards Dinner Held March 10
The Pittsburgh Council members and leadership gathered on the evening of March 10 to honor the Pittsburgh nine sea services commands' outstanding sea service members and Sea Cadets. Over 50 people helped to honor the Sea Cadets, from the Pittsburgh and Erie units, as well as the active and reserve outstanding Sailors, Marines and Coast Guard enlisted persons of the year. Bob MacPherson was installed as President of the council. The Sea Cadet units provided an outstanding color guard. 

The complete list of awardees is in the 1Q 2018 Newsletter.
Bob looks on as the Sea Cadets present the colors.


---
Steel City 2018 NROTC Mid of the Year Chosen

The NROTC unit has chosen MIDN Michael DiBacco to receive the Midshipman of the Year award from our council at the 10 March 2018 annual awards dinner. 

---
Council Received Wreaths Across America Certificate of Appreciation

Our Council has received a Certificate of Appreciation from "Wreaths Across America" for our dedicated support and fund raising in 2017.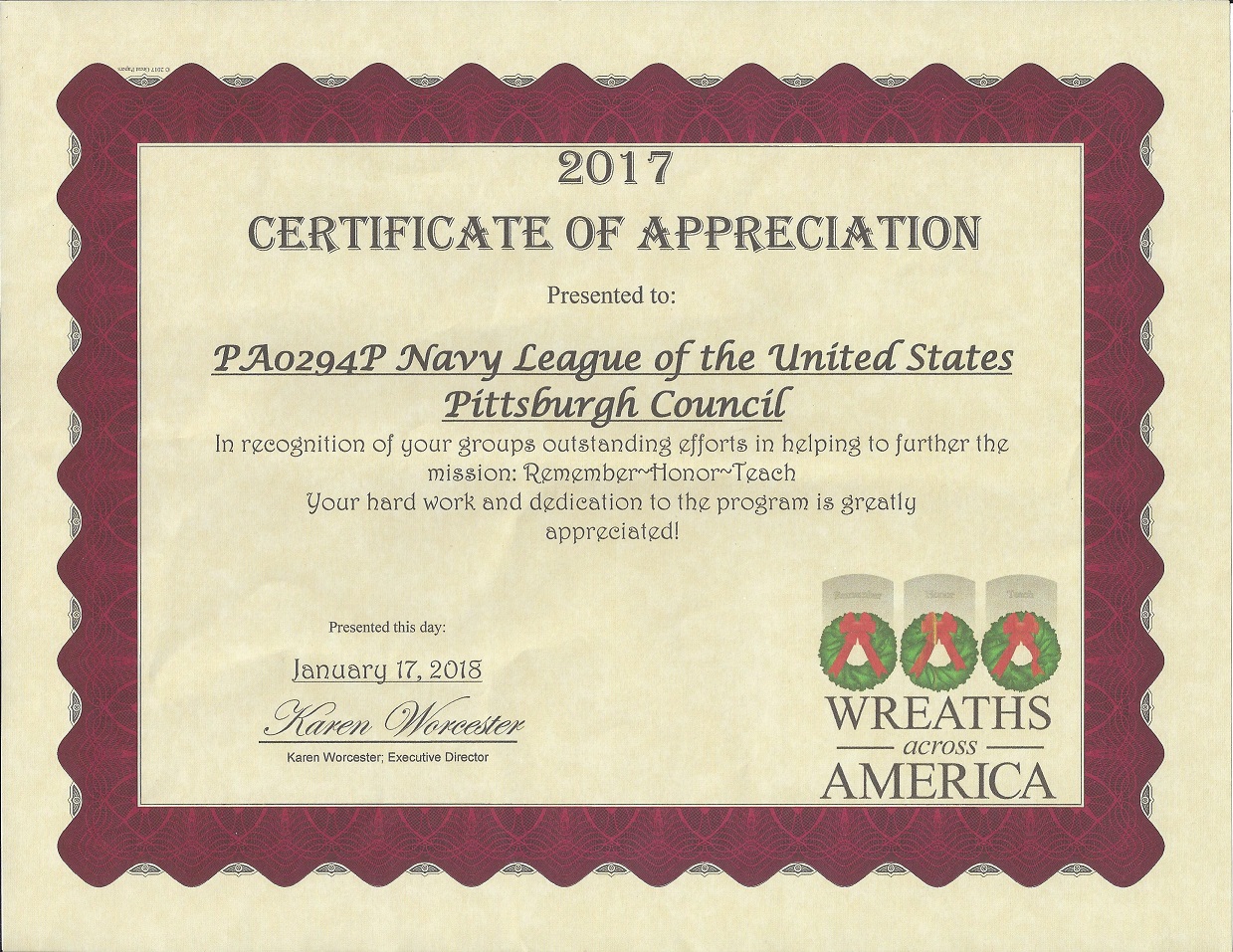 ---
Marine Corps Birthday Celebration Held November 10, 2017
The Navy League and members from the Steel City NROTC helped to celebrate the marine Corps birthday at the VA Center in Aspinwall.  See the 4Q Newsletter for details of the event.

---
Navy Ball Held October 20, 2017
Over 150 people attended the annual Navy Ball.  Pittsburgh Council president, Bob MacPherson, was the guest speaker.  See the 4th Quarter Newsletter for a descriptive summary.

---
Annual VA Picnic was a success
The annual VA Picnic, held on September 23, 2017 was a success.  Sea Cadets and CMU NROTC assisted the patients. Cooks were Jon Minor, Wally Utley and Nick Krawec. P. Bozdech-Veater prepared her delicious baked beans; DJ Krawec, A. Sleigh and K. Kersten helped serve.  See the 4Q Newsletter for further details.
---
Fund raising success for the USS Pittsburgh crew and family support

In May and June your Pittsburgh Council raised funds for the USS Pittsburgh crew and family scholarships and children Christmas  Party.  See the 2Q '17 Newsletter for a summary of these events.

---
---
Resources for Military (active and reserve) and families in the Pittsburgh Area

- Military Resource List


---
Pittsburgh Council modifies and approves new Articles of Incorporation and Bylaws
In December 2015 our Board of Directors approved a significant revision to our Council Articles and Bylaws to mold our organization in support of our expanded vision.  Here's a link to the new Articles of Incorporation [click here] and Bylaws [click here].  The Bylaws define new roles and responsibilities of the membership to lead us forward.  We look forward to our council having a positive impact in support of the Sea Services.
Pittsburgh Council, Patriotism & Gratitude, Honor, Knowledge, Service, Awareness, & Engagement