Council News and Features
-------------------------------------------
---
Wreaths Across America

The Navy League, Pittsburgh Council is participating in the "Wreaths Across America"a  mission to Remember, Honor and Teach which is carried out by coordinating wreath-laying ceremonies at Arlington National Cemetery, as well as over 1,200 additional locations in all 50 U.S. states, at sea, and abroad. 
From now until November 27, we can help sponsor the 9600 wreaths needed to honor every veteran at the National Cemetery of the Alleghenies. Each wreath sponsorship costs $15, with $5 going to the  Pittsburgh Council, Navy League of the United States.
You may participate by going directly to this link:  
https://wreaths.fastport.com/donateLocation.html?page=47147&relate=17115
 If you wish to volunteer to place wreaths at National Cemetery of the Alleghenies on December 16, please click the "View" button next to the  National Cemetery of the Alleghenies on the above link.
The Navy League's missions is to support sea service personnel and their families, to educate the public and Congress on the importance of our Sea Services to our nation's defense, well-being and economic prosperity of the United States and support youth through programs such as the US Naval Sea Cadet Corps, Naval Sea Cadet Corps, Junior ROTC and Young Marines that expose young people to the values of our sea services.
---
Annual VA Picnic was a success
The annual VA Picnic, held on September 23, was a success.  Sea Cadets and CMU NROTC assisted the patients. Cooks were Jon Minor, Wally Utley and Nick Krawec. P. Bozdech-Veater prepared her delicious baked beans; DJ Krawec, A. Sleigh and K. Kersten helped serve.
---
Fund raising success for the USS Pittsburgh crew and family support

In May and June your Pittsburgh Council raised funds for the USS Pittsburgh crew and family scholarships and children Christmas  Party.  See the 2Q '17 Newsletter for a summary of these events.

Annual Dinner Meeting held March 4, 2017

The 2017 Meeting was held on March 4 at the Pittsburgh Athletic Association. After the reception hour, Colors were paraded by the Sea Cadets, CAPT Neil F. Judd Unit.
Following dinner Bob MacPherson, President, conducted the awards ceremony for Outstanding Sea Service Members of the Year. The following were honored:
Coast Guard: CSI John F. Backman, USCG Osage; OINC Senior Chief Shane Yonushonis; MST2 Anthony DeAngelo, Marine Safety Office, Pittsburgh
Navy: QM1 Melissa Loos, Selected Reserve; HM1 Rachel Fernandez, Active Duty Navy Operational Support Center, Pittsburgh;
Steel City Unit, Navy Reserve Officer Training Corps. MIDN Brendan Barnes
Navy Recruiting District; NC1 Gary Peach,
Marines: LCPL Justin T. Middlemiss, Surgical  CO Alpha
Sea Cadets, CAPT Neil F. Judd Units: PO3 Daniel Caplan, USNSCC, Pittsburgh ; PO3 Jakob Parmeter, USNSCC, Erie
Installation of Officers was conducted by Polly Bozdech-Veater. 
---
USS Pennsylvania Crew members visit
In November members of the USS Pennsylvania, Ballistic Missile Submarine, paid a visit to Pittsburgh.  Council President Bob MacPherson accompanied them on a number of local industry, academic and commercial meetings. A visit with the Steel City NROTC, pictured below, and Midshipmen was included.  See the 4th Quarter 2016 Port of Pittsburgh Newsletter for a complete summary.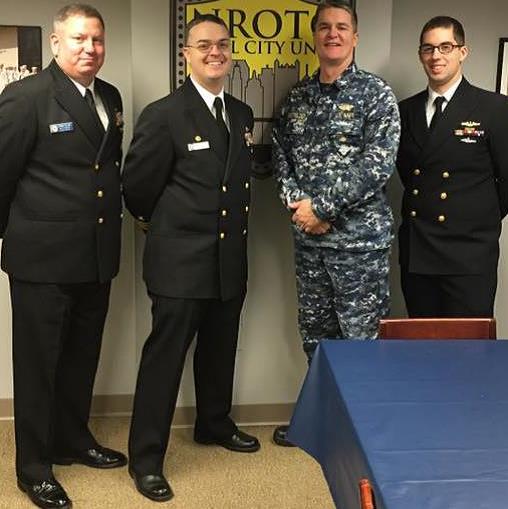 ---
Steel City NROTC Mid of the Year Chosen

The NROTC unit has chosen MIDN 1/C Brendan Barnes to receive the Midshipman of the Year award from our council at the 4 March 2017 annual awards dinner. 

Resources for Military (active and reserve) and families in the Pittsburgh Area

- Military Resource List


Pittsburgh Council modifies and approves new Articles of Incorporation and Bylaws
In December 2015 our Board of Directors approved a significant revision to our Council Articles and Bylaws to mold our organization in support of our expanded vision.  Here's a link to the new Articles of Incorporation [click here] and Bylaws [click here].  The Bylaws define new roles and responsibilities of the membership to lead us forward.  We look forward to our council having a positive impact in support of the Sea Services.
Pittsburgh Council, Patriotism & Gratitude, Honor, Knowledge, Service, Awareness, & Engagement