Council News and Features
-------------------------------------------
---
Wreaths Across America 2020
Our council participated in the annual Wreaths Across America by laying wreaths at the tombstone of our deceased military personnel in the Cemetery of the Alleghenies, near Pittsburgh.  On National Wreaths Across America Day, Dec. 19, over 2500 locations participated, placing 1.7 wreaths on veteran's tombstones. Our council member, Polly Bozdech-Veater took this picture on that snowy day.
---
Council to Participate in the National Wreaths Across America Day – December 18, 2021
From the National Wreaths Across America website:
"National Wreaths Across America Day has a simple mission: "Remember fallen U.S. veterans; honor those who serve; and teach your children the value of freedom." This important day is an annual event that takes place every third Saturday in December at Arlington National Cemetery, as well as other cemeteries in the U.S., at sea, and abroad. Wreaths are laid as family and friends remember both those who made the ultimate sacrifice, and those who currently serve in the armed forces."
On December 18, 2021, members of the Pittsburgh Council will be helping the National Cemetery of the Alleghenies to Remember and Honor our veterans by laying Remembrance wreaths on the graves of our country's fallen heroes.
Please help us honor and remember as many fallen heroes as possible by sponsoring remembrance wreaths, volunteering on Wreaths Day, or inviting your family and friends to attend with you.
Go to the following website to sponsor a wreath.  Our council will receive a portion of the contribution.
www.wreathsacrossamerica.org/PA0294P
Thank you so much for supporting the Navy League of the United States - Pittsburgh Council and Wreaths Across America!
---
RDML James Aiken webinar with the Pittsburgh Council
Our Council was honored  to have RDML Aiken present to us in July, 2020.  RDML Aiken is Commander, Carrier Strike Group Three.  His bio is below.
Here's the webinar for your enjoyment.
RDML James Aiken Navy biography.
---
ENS Ryan Denis Awarded 2020 Council Sword
ENS Ryan Denis is the son of Ron and Janet Denis and the second of six children, all born and raised in New Freedom, Pennsylvania. ENS Denis recently graduated from the University of Pittsburgh in April with a B.S. in Molecular Biology and minored in Chemistry and Exercise Science. He participated in the Carnegie Mellon University NROTC program throughout his four years at Pitt and served as the Battalion Sergeant Major during the fall of his senior year. Outside of the NROTC program, ENS Denis acted as the Vice President of the club triathlon team at Pitt where he participated in numerous races every year including two national collegiate club championships. ENS Denis plans on attending nuclear power school in Charleston, SC, where he will start his journey to become a submarine officer.
---
Steel City Navy ROTC 2020 Midshipman of the Year
The Carnegie Mellon University/Steel City ROTC has selected Midshipman 1/C Chandler Sabourin as the Pittsburgh Council Navy League Midshipman of the year.  Here is the nomination/selection letter. 
---
2019 Navy Ball
On Oct. 11, the Pittsburgh Council held its Navy Ball at Soldiers and Sailors Memorial Hall and Museum, featuring guest speaker Fleet Master Chief Scott Benning (ret.), who now serves as the director of management at Director of Navy Staff. Participants included local Navy commands, NOSC, NTAG and the Steel City NROTC.
We had 155 people attending including representatives from the Army, Coast Guard and Air Force.   A great DJ had everyone out on the dance floor.   The food was wonderful ---smoked beef brisket, smoked chicken, and pecan crusted salmon.   The birthday cake from Oakmont Bakery was delicious.
Attendees proudly cut the birthday cake.  From left to right:
LCDR Rick Elster (oldest sailor);  Bob MacPherson, Pittsburgh Council President; Chief Broskovich, President McKeesport-Pittsburgh Chief Petty Officer Association; youngest sailor, MIDS/4 Eliana Fleischer and the guest speaker, FLTCM Scott Benning, USN Ret, guest speaker.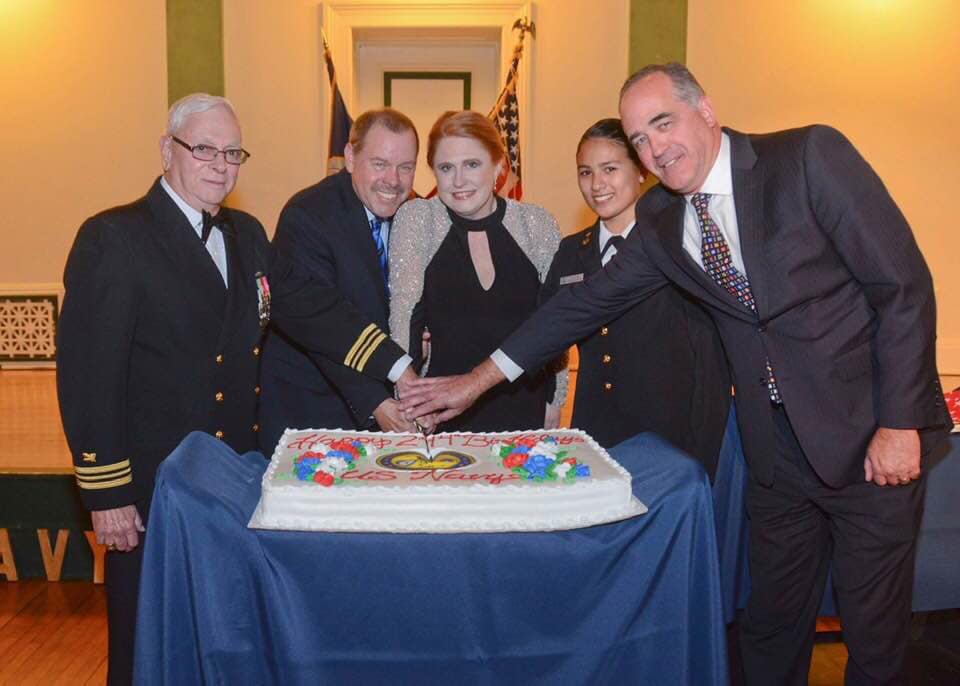 ---
2019 VA Picnic
The Navy League, Pittsburgh Council, along with the Reserve Officers Association (ROA) gathered at the Veterans Administration Hospital, Aspinwall on September 21, 2019  to support a picnic for the veterans. 
This year's VA picnic was a rousing success.  The food, drinks, supplies, ice, utensils, etc. were so very well organized by the Navy League members.  The cooking, serving & kitchen duties were performed flawlessly.  The day was beautiful and the assisting organizations were fantastic.
We want to thank ROA Chapter 51 and the Fox Chapel Rotary that provided additional help.   
The Sea Cadets (about 20) along with the NROTC midshipmen (6) pictured below, were of great assistance.  We had over 50 vets plus family.  This is by far the largest group we have had in a long time.   
We heard from a couple of veteran's how grateful they were for the event.
The Sea Cadets and Steel City NROTC Unit provided assistance and support as seen in the picture below:
---
2019 Golf Outing
Once again Don Elborne conducted a very successful golf tournament---his 25th, in support of the USS Pittsburgh's Children's Christmas Party fund.  The weather was outstanding, and the golfers enjoyed a great day on the Butler Golf Course, Elizabeth, PA.  We raised over $3,100 for the USS Pittsburgh Children's Christmas Party but now the funds will be used in support of the USS Pittsburgh crew and family, specifics to be determined, now that inactivation and decommissioning has begun.
Many thanks to Don for his 25 years of raising funds to support the USS Pittsburgh Children's Christmas Party.  We have such a long history of support to the children of the crew from the first gifts of toys taken to Groton.
Further details are in the 2Q19 Newsletter. 
---
2019 Derby Party 
For many years, friends have gathered on the first Saturday in May at Polly Bozdech-Veater's home to celebrate the Kentucky Derby and raise funds for the USS Pittsburgh crew and family scholarships.  This year was no different.  May 4---the weather was "iffy" in Pittsburgh, pouring rain in Louisville but that didn't deter us

Thanks to Dave Gates who donated the Kolbi beef burgers, Dave Erdodi who did his usual great grilling, Nancy and Dave Erdodi who provided the mint for mint juleps, John Caspero for being the bet taker, and David Rojas and friend Danny for providing great support including chauffeuring guests to the event.

A special thanks to Chief Lautz and the Fox Chapel Police Department over these many years for helping with traffic control.  Thanks to the guests who supported the USS Pittsburgh Scholarship Fund with donations and "betting" to the tune of $850.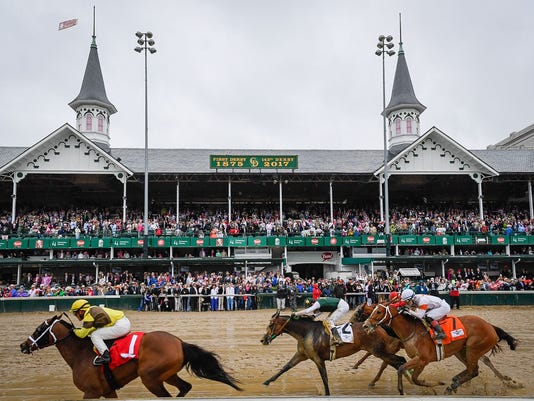 ---
---
USS Laboon Crew Visit

Sailors from the guided-missile destroyer USS Laboon (DDG 58) traveled to Pittsburgh March 18-21 to visit the hometown of their namesake and members of his family.
See the link to the USS Laboon:
https://www.public.navy.mil/surflant/ddg58/Pages/default.aspx?fbclid=IwAR2iX2gahPF2_Scmy6NS2xhAAfDqrOr0BkiIJt5flV-VQbnt2fZx6_V49Ro
See the press release regarding the visit:
https://www.navy.mil/submit/display.asp?story_id=108998&utm_source=phplist1898&utm_medium=email&utm_content=HTML&utm_campaign=Navy.mil+Headlines

---
Council Supports Coast Guard During 2019 Partial Government Shutdown

The Pittsburgh Council was in constant contact with the three Coast Guard stations in the Pittsburgh and Erie area, including weekly phone calls, visits and dozens of email contacts. The council also helped the Coast Guard locate local and national resources to assist them during the government shutdown, provided gas gift cards worth $1220  total and sponsored two Super Bowl parties.

                                                     Letters of Appreciation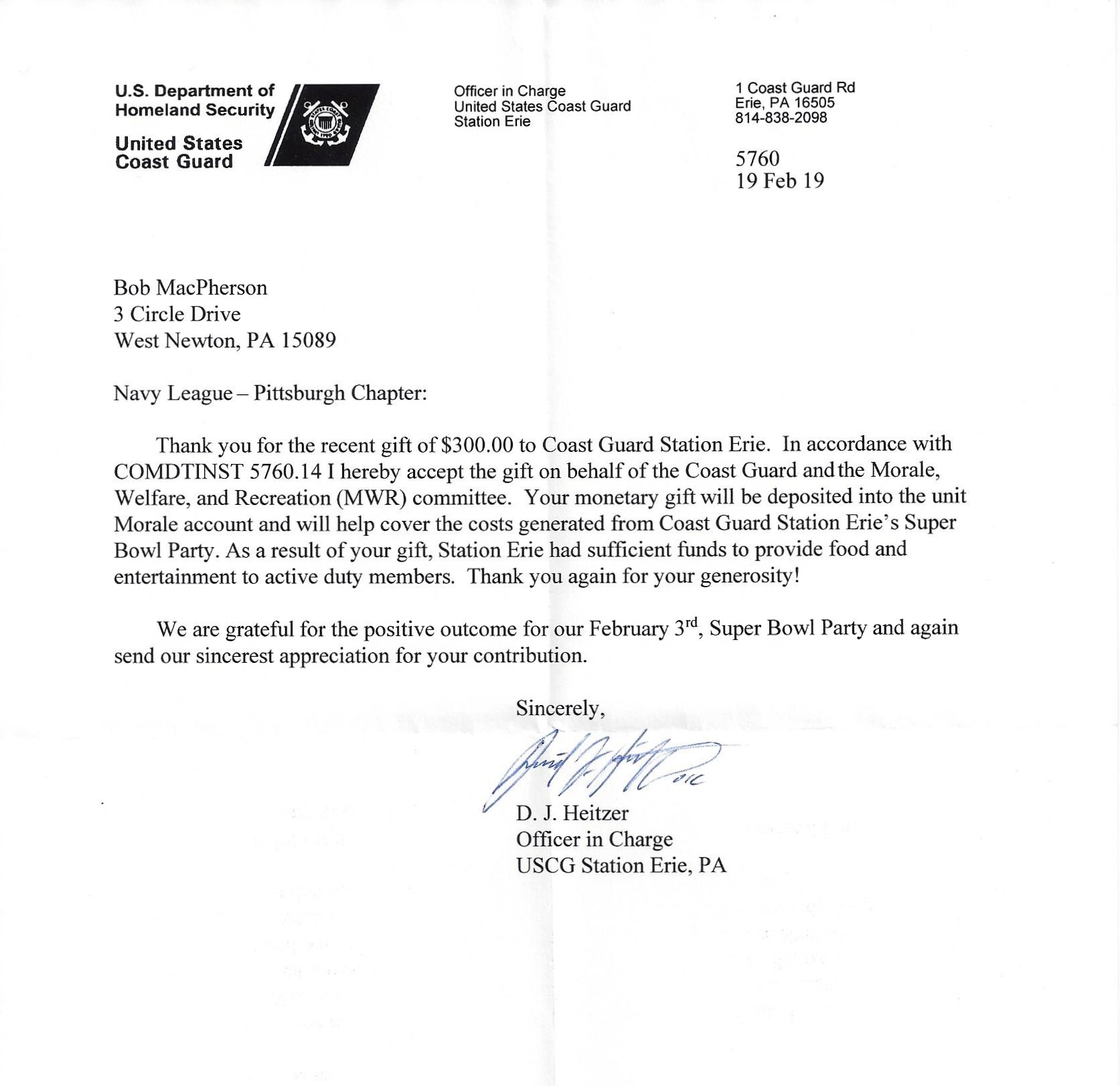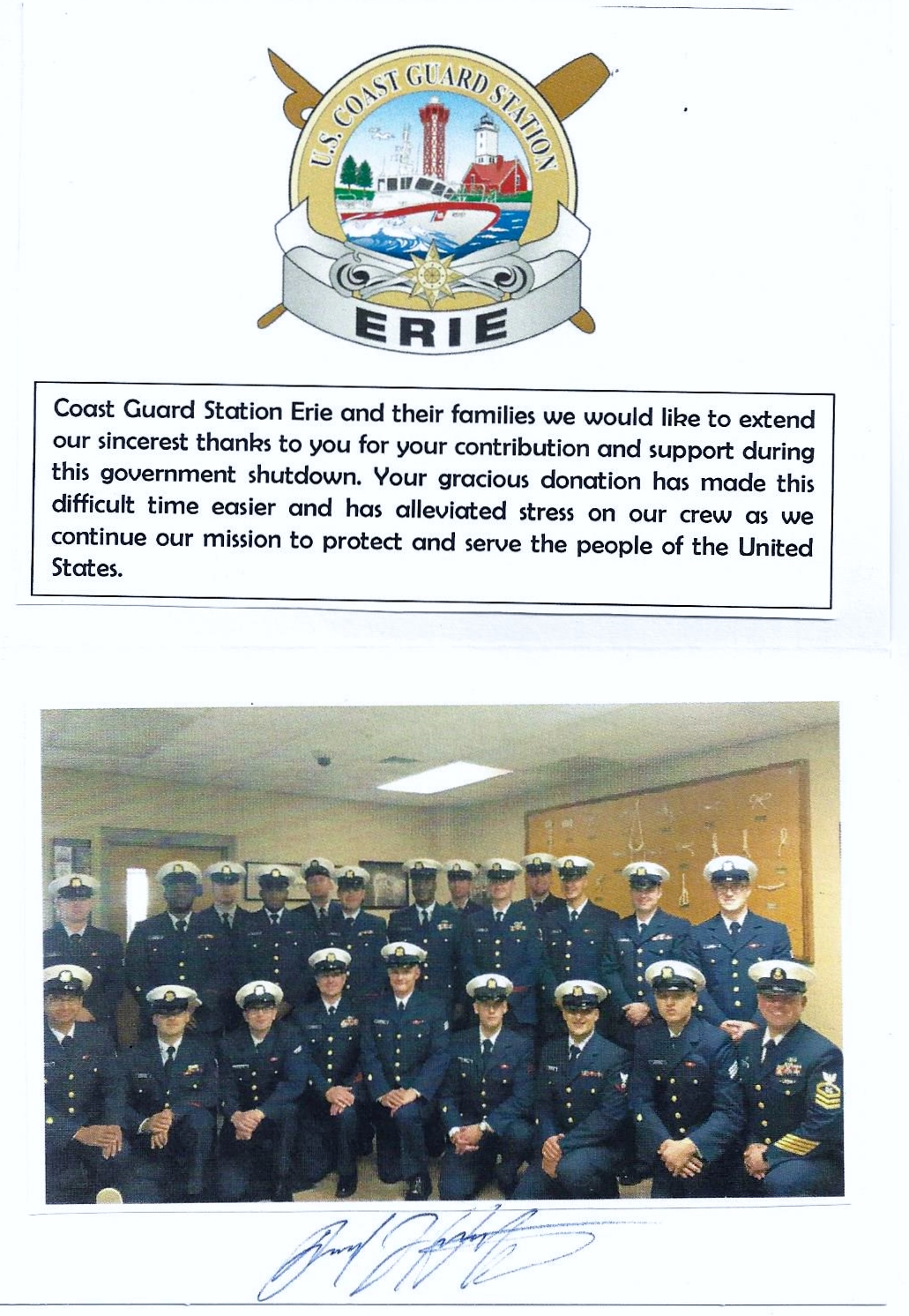 ---
---
Navy Ball held October 12, 2018
The Pittsburgh Council had a great Navy Ball in Pittsburgh on Oct. 12 with the theme "Forged by the Sea, Tempered by the Steel City." Rear Adm. David Hahn, Director of Naval Research and past commanding officer of the USS Pittsburgh, was the guest speaker.
From our 4Q2018 Newsletter:
This year was the first year in a long time that the Navy Ball was held in the ornamental gathering place where it had been held in years past. The great committee worked very hard to put together all the pieces that would make this work. Feedback from some of our core constituency had indicated that a central location would be more convenient and there are very few locations as nice and affordable as the main ballroom at Soldiers and Sailors. The benefit of having a place so closely tied to the Navy's history in Pittsburgh was indeed a bonus. The staff at Soldiers and Sailors, the caterers from All the Best Catering and Eric Wenning from Wenning Entertainment bent over backwards to work with us to make this a great event.
Nearly 200 tickets were sold and the crowd that gathered that night to hear Rear Admiral David Hahn (a former CO of the USS Pittsburgh) speak about the future of the Navy and its proud relationship with Pittsburgh.
Lt. Sam Colton played a key role as Master of Ceremonies and kept the program on track and on time.
LCDR Rick Elster, USN Ret., used the Table of Honor Ceremony to remind us of those who were not able to be in attendance because of their sacrifices. We had a special performance by Ms. Antolena Damico, who set the stage with a brilliant rendition of the National Anthem and kicked off the entertainment with two crowd pleasing songs.
There are so many people to thank, including Captain Polly Bozdech-Veater for keeping the program tight and well scripted and Ensign Brooke Houle for her tireless work behind the scenes. If you saw one of the special coins we used to raise funds, you saw her work. It was her design that was used on all our branding. As a bonus, over 650 coins have been sold to date which helped to make sure we kept our budget in control. Thanks to McKeesport-Pittsburgh Chief Petty Officer's Association and all the committee members for making this an evening to remember.
Most of all, thank you to our many sponsors including Bill Wolffe, CFP, Fragrasso, USAA, Sarris Candy, John Van Huyck, Vic Hulina, Katherine Kersten, CWO2 and Mrs. Bob MacPherson, Captain Jim Bendel, USN Ret, and Dr. and Mrs. Karl Ludwig. Without their generous support, we would not have been able to get this done.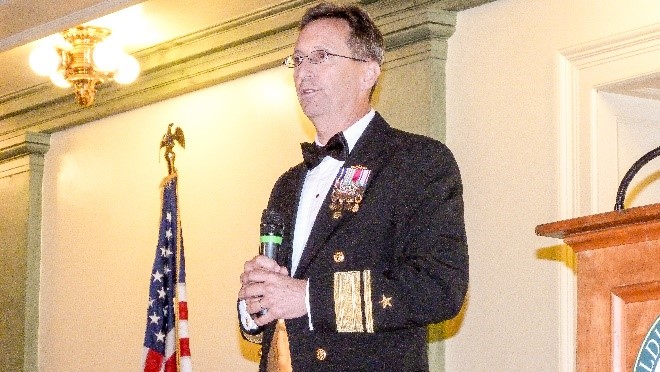 RADM David Hahn speaking at the Navy Ball

---
---
Resources for Military (active and reserve) and families in the Pittsburgh Area

- Military Resource List

Nov. 24, 2020



---
Pittsburgh Council modifies and approves new Articles of Incorporation and Bylaws
In December 2015 our Board of Directors approved a significant revision to our Council Articles and Bylaws to mold our organization in support of our expanded vision.  Here's a link to the new Articles of Incorporation [click here] and Bylaws [click here].  The Bylaws define new roles and responsibilities of the membership to lead us forward.  We look forward to our council having a positive impact in support of the Sea Services.
Pittsburgh Council, Patriotism & Gratitude, Honor, Knowledge, Service, Awareness, & Engagement